R. W. Trewyn
Assistant to the president
NBAF liaison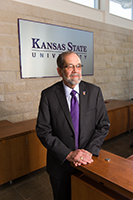 Ron Trewyn began serving Kansas State University's full-time liaison to the National Bio and Agro-defense Facility, or NBAF, in August 2014. Before assuming the post, he was K-State's vice president for research, leading the university's multiyear efforts to bring the $1.25 billion federal research and development laboratory to Kansas. In his new role, Trewyn works with the university president and others within and outside the institution to facilitate and leverage NBAF-related opportunities for the university, the city and the state.
Trewyn earned a doctorate in microbial physiology from Oregon State University in 1974, with minors in biochemistry and genetics. That was after graduating from an Illinois business school in accounting, serving as a staff sergeant in the U.S. Army infantry in Vietnam, and receiving a bachelor's degree in biology from the University of Wisconsin-Whitewater. Following graduate school, he conducted postdoctoral research at the University of Colorado Health Sciences Center, studying the molecular biology of cancer.
From 1978-1994, Trewyn was a faculty member in the medical school at Ohio State University, attaining the rank of professor of medical biochemistry and directing the institution' s largest interdisciplinary graduate program. He was also a member of the National Cancer Institute's Comprehensive Cancer Center at Ohio State, where his research focused on epigenetic changes in human cells that can accelerate cancer development while providing early diagnostic indicators and novel targets for cancer treatment.
Trewyn assumed the positions of associate vice provost for research and professor of biology at Kansas State University in 1994. He served as president of the Kansas State University Research Foundation from 1995 to 2011, dean of the Graduate School from 1998 to 2007, and was the university' s chief research officer from 1998 to 2014.
In 2012, Trewyn was elected a fellow of the American Association for the Advancement of Science for his ongoing contributions to research administration and his earlier efforts in cancer research. He also was elected to Phi Kappa Phi, the national honor society, in 2014.
More information about Trewyn and his work is available at http://www.k-state.edu/NBAF. He can be contacted via email at trewyn@k-state.edu.