Frank Tracz
Professor of music
Director of bands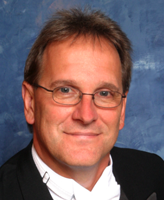 Recognized as one of the best band directors and music educators in the nation, Frank Tracz administers and guides all aspects of the university band program, which includes the Wind Ensemble, Concert Band, University Band, Athletic Pep Bands and the Marching Band. These bands have performed or toured nationally and internationally, including the Pride of Wildcat Land Marching Band at football bowl games like the Fiesta, Cotton and Holiday; and the Wind Ensemble at the national conference of the MENC, College Band Directors National Association's Southwest Regional Conference and the Kansas Music Educators Association Conference.
Tracz, who joined the university in 1993, also coordinates the undergraduate and graduate conducting programs, teaches classes in music education, and researched and developed the university's master of music education program.
As director of the university's Marching Band, Tracz has increased its membership to more than 300 and organizes annually several camps and clinics for young musicians and high school bands in the region, including Band Day and the annual Central States Marching Festival.
He has served as an adjudicator, clinician and guest conductor for all-state and honor bands across the nation and in Canada. He is also a faculty member of the Conn-Selmer Institute, as well as a past member of the Music Education Journal editorial board and a contributor to the series "Teaching Music Through Performance in Band."
Tracz was elected to the prestigious American Bandmasters Association in 2012. Membership in this organization is by invitation only and recognizes the significant accomplishments and contributions of its members to the advancement of the wind ensemble and its literature. With fewer than 300 members, membership in this organization is considered a great honor and is only offered to leaders in the profession.
Tracz also received the Tau Beta Sigma National Band Honorary Sorority's Paula Crider Award in 2011. The award recognizes outstanding university band directors who have distinguished themselves in the field of university bands and who have been supportive of Tau Beta Sigma and its ideals.
His other honors include being named a Lowell Mason fellow in 2006, which recognized him as one of the top 10 music educators by MENC. He has received the Outstanding Bandmaster Award from the Kansas Bandmasters Association and Phi Beta Mu, Stamey Award for Excellence in Teaching from the College of Arts and Sciences and the Outstanding Faculty Member Award from the university's chapter of Mortar Board, a senior honor society.
He also has served as director of the Manhattan Municipal Band since 1995. Tracz was honorary co-chair of the 2011 K-State Proud Campaign, which raised more than $117,000 for student opportunity awards.
Tracz earned his doctorate and bachelor's in music education from Ohio State University, and a master's music from the University of Wisconsin-Madison.
Tracz can be contacted at 785-532-3818 or ftracz@k-state.edu.