John Tomich
Professor of biochemistry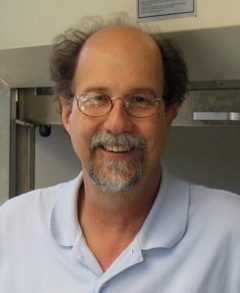 John Tomich wears many hats at Kansas State University. As a biochemistry faculty member he conducts National Institutes of Health-funded research on synthetic peptides with interesting activities. His primary interest is in the area of channel forming peptides.
His lab has developed more than 200 sequences that show varied ion transport activity in synthetic membranes as well as cultured epithelial cells and animals. One set of peptide shows promise in allowing the selective transport of chloride ions across cells. These peptides show promise in restoring the chloride imbalance seen in patients that suffer cystic fibrosis. Another set of peptides temporarily alters the barrier function of epithelial cells. These sequences are currently being investigated as possible transport activators in epithelium. Pretreatment of cells with the peptide facilitates the transport of drugs or helpful molecules that are normally excluded.
Some of Tomich's recent peptide studies have yielded structures with unusual activities including adhesives and self-assembling peptides that form water-filled vesicles suitable for drug deliver to cells. He has 13 patents -- issued and pending -– and more than 110 journal articles and book chapters.
He also has worked with industry to develop a process by which the preservative-calcium propionate can be made naturally and at low cost using waste feedstocks from dairy and biodiesel producers. His process is now being commercialized.
As director of the Biotechnology Core Lab, Tomich oversees synthetic and analytic services offered to researchers around the world. The lab specializes in the chemical synthesis of peptides, mass spectrometry, protein sequencing, plasmon resonance and solution NMR structure analysis of membrane spanning peptides. Since 2006 the lab has obtained instrumentation that has extended its capabilities into the area of proteomics. The lab is currently assisting researchers on a number of bacterial, plant and insect proteomics projects.
Tomich also is one of the founders of a small biotech company, Nacelle Therapeutics Inc. He is currently chief technical officer. This company was founded to help commercialize some of the peptides developed at Kansas State University.
Tomich received his bachelor's degree in biology with a minor in chemistry from the University of Connecticut and his master's degree in biochemistry from Purdue University. He went on to receive his doctorate in chemistry from the University of Waterloo in Ontario, Canada.
He is a member of Sigma Xi, the Biophysical Society, the Association for Biomolecular Resource Facilities, the American Peptide Society and the Federation for American Scientists for Experimental Biology.
Tomich can be reached at 785-532-5956 or jtomich@k-state.edu.