Mike Tokach
University distinguished professor of animal sciences
and industry
Swine extension specialist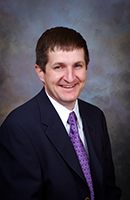 Named among the 50 people who has made the greatest impact in the hog industry in the last 50 years, Mike Tokach, professor of animal sciences and industry, is a swine extension specialist and researcher for K-State Research and Extension. Tokach's research focuses on practical swine nutrition, and he works with industry producers to promote the rapid adoption of new technology.
Tokach grew up on a diversified livestock and grain farm in North Dakota, which was his first education in many of the day-to-day problems that livestock producers can encounter. He received his bachelor's in animal science from North Dakota State University in 1986, a master's in swine nutrition from K-State in 1988 and completed his doctorate in swine nutrition at the University of Minnesota in 1991.
He joined the K-State faculty as an assistant professor in 1991, was promoted to associate professor in 1995 and to full professor in 2001. He earned the title of university distinguished professor, K-State's highest academic ranking, in 2013.
Tokach is the author of more than 200 articles in scientific journals, six book chapters and more than 700 extension and non-refereed articles. He has received more than $4 million in research grants from various organizations, including the National Pork Board and U.S. Department of Agriculture's National Institute of Food and Agriculture, as well as various swine industry partners. Tokach also has been awarded seven patents for his research, and has given more than 100 invited lectures at national and international conferences. He has developed multiple in-depth nutritional education programs for veterinarians and veterinary students, extension specialists and feed industry personnel. National Hog Farmer magazine named Tokach one of the 50 people who have made the greatest impact on the swine industry in the last 50 years.
The swine extension group that Tokach is a member of also includes fellow faculty members Jim Nelssen, Steve Dritz, Joel DeRouchey and Robert Goodband, along with graduate students advised by the researchers. This group has generated more than $3.5 million in gifts to K-State for construction of facilities such as the gestation barn and weaning facilities to support extension research projects.
Tokach has also advised and mentored 39 advanced-degree students and visiting professors since joining the university. He is a member of the American Society of Animals Science and the American Association of Swine Veterinarians.
Tokach can be contacted at 785-532-2032 or at mtokach@k-state.edu.