Masaaki Tamura
Associate professor of anatomy and physiology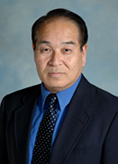 Masaaki Tamura's research interests include clarification of the involvement of angiotensin II and its signaling in the colon, lung and pancreatic cancers, nanoparticle-based cancer gene therapy and umbilical cord matrix-derived stem cell-based cancer cytotherapy. He is also involved in the National Institutes of Health-funded research project that aims to use stem cells from the umbilical cord to deliver therapeutic cancer drugs directly to tumors.
Tamura is a member of the American Association for Cancer Research and American Physiological Society.
Tamura earned a doctorate in veterinary medicine — biochemistry and nutrition — from Azabu Veterinary College in Japan and a Doctor of Veterinary Medicine from Kitasato University College of Veterinary Medicine in Japan. He was an assistant professor of human nutrition/public health at the Tokyo University, Japan. He was the director of Protein Chemistry Core Laboratory and a research associate professor of biochemistry department in Vanderbilt University.
Tamura can be reached at 785-532-4825 or mtamura@vet.k-state.edu.