Esther Swilley
L.L. McAninich chair in business
Associate professor of marketing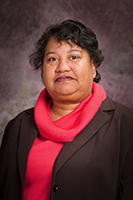 Electronic commerce, mobile marketing and technology in marketing are the primary research focuses of Esther Swilley, the L.L. McAninch chair in business and an associate professor of marketing in K-State's College of Business Administration. She also teaches courses in electronic marketing and international marketing.
Prior to joining K-State in 2007, Swilley received a bachelor's in mass communications from Wayne State University in 1979, a Master of Business Administration from Kennesaw State University in 2002 and a doctorate in marketing from Florida State University in 2007. She has nearly 20 years of experience working as a professional in the marketing industry. Swilley served as account manager for the USA Today in Atlanta and account executive and marketing representative for The Atlanta Journal-Constitution,as well as product development manager, monetization manager, business liaison manager and community manager for BellSouth, also in Atlanta.
At K-State, Swilley has served as an adviser to the Developing Scholars Program and the Master of Business Administration practicum, been a member of several doctoral and master's thesis committees, and has been the recipient of more than $9,000 worth of research grants. Swilley's research has appeared in multiple industry publications, and she has given invited presentations at the Marketing Doctoral Students Association Conference and the McKnight Doctoral Fellowship mid-year meeting. She also has served as a reviewer for various industry publications and conferences.
Swilley received an AMS/MDSA Conference Grant in both 2005 and 2006. She also received the Leslie N. Wilson Graduate Assistantship, the Journal of Value Chain Management's Warsteiner Best Paper Award in 2007, K-State's Promoting an Accessible Campus Award in 2011 and was a 2011 Wakonse Teaching Conference fellow. She was appointed the L.L. McAninch chair in business and promoted to associate professor in 2013.
She is a member of several professional associations, including the American Marketing Association, the Academy of Marketing Sciences, the Society for Marketing Advances, Beta Gamma Sigma, the Marketing Ethnic Faculty Association, the Marketing Doctoral Students Association and the McKnight Doctoral Fellowship Program. Swilley was a member of Manhattan Area Habitat for Humanity's board of directors from 2009-2011, serving as board president from 2011-2012. She is also a member of the Little Apple Pilot Club.
Swilley can be contacted at 785-532-6135 or esthers@k-state.edu.