Diane Swanson
Edgerley family chair in business administration
Professor of management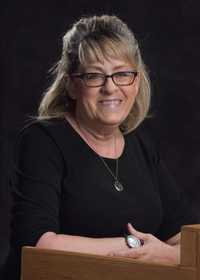 In response to corporate scandals like Enron and Arthur Andersen, Diane Swanson, professor of management and Edgerley family chair in business administration, spearheaded a national campaign in 2003 that emphasized the importance of ethics in business education.
Swanson asserts that business schools should do their part to ensure that students are exposed to road maps for ethical decision-making. Swanson's campaign, which was covered by national and international press, earned the endorsements of three conference boards and hundreds of professors, ethicists and business professionals. In 2012, Corporate Responsibility Magazine featured an update of this campaign as a continued call to action.
Swanson is frequently invited to speak to audiences of university administrators, professors and corporate executives on the importance of ethics education and ethics in practice. In May 2010 she presented to an audience from several universities and junior colleges across four states in the inaugural workshop on business ethics education, part of a new initiative sponsored by a grant from the Daniels Fund. She also serves as a consultant for the ethics curriculum sponsored by this fund. Each summer she teaches ethics course work to executive credit managers in a program hosted at Dartmouth College. In 2011, she joined the faculty at Benedictine University as Distinguished Visiting Scholar in the Executive Ph.D. Program for Values-Driven Leadership
A business ethics instructor and researcher, Swanson has investigated the correlation between levels of executive pay and the willingness to incorporate values in decision-making. Her areas of specialty include research on executive leadership, value-based culture, the triple bottom line business, organizational dynamics, the regulation of risky systems, business ethics education and corporate social responsibility.
Swanson joined K-State in 1997. She graduated with highest distinction with a doctorate in business administration from the Katz Graduate School of Business at the University of Pittsburgh in Pennsylvania in 1996. She graduated with honors in the economics master's program from the University of Missouri at Kansas City in 1982.
Swanson has earned numerous awards for teaching and research excellence. She received the Best Article Award in 2001 from the International Association for Business and Society in conjunction with the journal California Management Review, and the Best Ethics Educator Award from Colorado State University, University of Colorado at Boulder and University of Wyoming in 2004. Widely cited as the author of more than 70 publications, she has served on the editorial boards of the top-ranked journals Business Ethics Quarterly, Academy of Management Review, Business & Society and Asia Pacific and Globalization Review. She also served as an associate editor for the first edition of the five-volume Encyclopedia of Business Ethics in Society, which won three national awards in 2009, and as the book review editor for the International Journal of Organizational Analysis. She joined the editorial board for the second edition of the Encyclopedia of Business Ethics in Society in 2014.
Swanson has published four books, including "Toward Integrative Corporate Citizenship" in 2008, which was co-authored with Marc Orlitzky of the University of South Australia; "Advancing Business Ethics Education" in 2008, which was co-edited with Dann Fisher, K-State associate professor of accounting; and "Toward Assessing Business Ethics Education" in 2011, also co-edited with Fisher. She published "Embedding CSR into Corporate Culture: Challenging the Executive Mind" in 2014.
Swanson can be contacted at 785-532-4352 or swanson@k-state.edu.