Xiuzhi (Susan) Sun
University distinguished professor of grain science and industry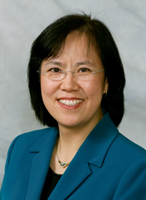 Xiuzhi "Susan" Sun, university distinguished professor of grain science and industry, is director of K-State's Bio Materials and Technology Laboratory, and co-director and founder of the Center for Biobased Polymers By Design.
Sun's research focuses on how various plant and grain proteins can be used to create bio-based materials that are safer, more durable and environmentally friendly. Her areas of interest are in plant proteins extraction and modification; polypeptides and protein structures and adhesion; peptide hydrogels; bio-based latex adhesives; transparent tapes; poly(lactic acids) sugar-based thermoplastics compounding and synthesis; bionanocomposites; thermodynamics; and rheological properties of bio-based polymers.
Her research has led to eight patents. She's also helped create a soy-based, formaldehyde-free adhesive that's water resistant, and a biodegradable container that's used to hold nutritional supplements for cattle.
Sun has authored 120 scientific journal publications that have appeared in Biomacromolecules, Polymers, Macromolecular Bioscience, Journal of the American Oil Chemists' Society, Journal of Biobased Materials and Bioenergy, the Journal of Agriculture and Food Chemistry, and the Journal of Applied Polymer Science, among others.
She's a member of the American Society of Agricultural and Biological Engineers, the Institute of Food Technology, the American Association of Cereal Chemists, the American Chemical Society and the BioEnvironmental Polymer Society.
Sun joined K-State in 1996. She was named a distinguished professor, the university's highest academic ranking, in 2011. She received her bachelor's and master's degrees from Northeast Agricultural University in China. Her doctorate in agricultural and biological engineering is from the University of Illinois at Champaign-Urbana.
She can be reached at 785-532-4077 or xss@k-state.edu.