David Stone
Richard A. and Greta Bauer Pickett chair for exceptional faculty
Professor of military history
Director, Institute for Military History and 20th Century Studies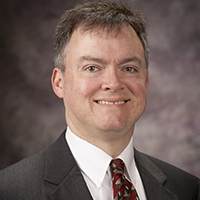 David Stone, director of the Institute for Military History and 20th Century Studies, is the Pickett professor of military history at Kansas State University and an award-winning author. He specializes in Russia and the Soviet Union, South Asia and military history. Stone's new book, "The Russian Army in the Great War," traces the neglected military history of the Eastern Front in World War I.
Stone's first book, "Hammer and Rifle: The Militarization of the Soviet Union, 1926-1933," was a selection of the History Book Club. It also was named the winner of the 2001 inaugural Best First Book prize of the Historical Society and was co-winner of the 2001 Shulman Prize of the American Association for the Advancement of Slavic Studies. In 2006 he published "A Military History of Russia: From Ivan the Terrible to the War in Chechnya," and was named one of America's top young historians by the History News Network. He was editor of the 2010 book, "The Soviet Union at War, 1941-1945." He also is the author of more than 30 articles and book chapters on Russian/Soviet military history and foreign policy.
His current research includes Leon Trotsky and his role in the creation of the Soviet army, international finance and the collapse of the Soviet system, and the Soviet military in the run-up to World War II.
Stone earned a doctorate in history from Yale University and bachelor's degrees in history and mathematics from Wabash College.
He joined K-State in 1999. He has been recognized for his teaching with the 2001 K-State Presidential Award for Excellence in Undergraduate Teaching.
Stone can be reached at 785-532-2978 or stone@k-state.edu.