Sandra Stith
Virginia Mowrey McAninch endowed professor
in family studies and human services
Professor of family studies and human services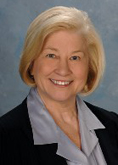 A nationally known expert on understanding and treating intimate partner violence, Sandra Stith is a professor of family studies and human services and director of the marriage and family therapy program at K-State.
Since coming to K-State in 2007, Stith has garnered nearly $5 million in grants. She is the author of one book and has edited four books on intimate partner violence and authored more than 60 articles and book chapters on the subject. Stith has received funding to develop and test a couple's treatment program for intimate partner violence. She has worked with the U.S. Air Force Family Advocacy Program since 1998, managing and conducting a variety of family violence-related research projects.
Before coming to K-State, she was a professor and director of the master's program in marriage and family therapy at Virginia Tech University in Falls Church, Va.
Stith was named the K-State College of Human Ecology's Vera Mowrey McAnich endowed professor in the School of Family Studies and Human Services in 2012. Her other honors include the College of Human Ecology's Research Excellence Award in 2011; the American Family Therapy Association's Distinguished Contribution to Family Systems Research Award and K-State's Distinguished Alumni Award in 2007; and the American Association for Marriage and Family Therapy's Outstanding Contribution to Marriage and Family Therapy Award in 2004. She also was recognized for teaching excellence at Virginia Tech.
Stith grew up in Oklahoma. She received her bachelor's degree in 1970 in education from Oklahoma State University. She earned her master's degree in life span human development in 1982 and her doctorate in marriage and family therapy in 1986, both from K-State.
She can be reached at 785-532-4377 or sstith@k-state.edu.