Ken Stafford
Chief information officer
Vice provost for information technology services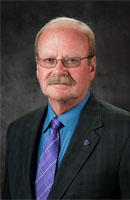 Ken Stafford has extensive experience in guiding information technology services for higher education. As an informational technology consultant, he has helped develop or make recommendations about IT systems at universities across the nation. He also has helped design IT systems for governmental agencies in Costa Rica, China and Egypt.
As K-State's chief information officer and vice provost for information technology services, Stafford has strategic oversight of university information technology services, including networking; academic, administrative and instructional technologies and support services; information and technology security; infrastructure for research computing; data and information management; and more. He also is responsible for ensuring the development and communication of university IT policies, standards and procedures.
Prior to joining K-State in August 2010, Stafford was vice chancellor for technology at the University of Denver since 1998. He also has served in similar positions in the University of Maryland System, including as associate vice chancellor and chief information officer, and associate vice chancellor for system re-engineering. He was vice president for administration and finance at the Maryland Institute for Agriculture and Natural Resources, vice president at Bowie State University, and chief financial officer and director of administrative services for the College of Agriculture at the University of Idaho.
Stafford has a bachelor's in business and a master's in economics, both from the University of Idaho. His numerous honors include the Award for Advancing Technology in Agriculture from the U.S. Department of Agriculture in Washington, D.C.; Executive of the Year Award from Bowie State University; and Alumni Award for Faculty Excellence from the University of Idaho.
He has been active in several professional and civic organizations, including serving on the board of directors of the Denver Executive CIO Council, KanRen and member and treasurer of the board of directors of the Colorado Alliance of Research Libraries. He is a member of the National Association of College and University Business Officers, EDUCAUSE, WestNet, the Western Cooperative for Educational Technology and the Coalition for Networked Information, and served as chair of the Colorado IT Symposium in 2010. He also serves as a docent for the Konza Prairie and is on the board of directors of the Friends of the Konza Prairie.
He also has been the keynote speaker or presenter on information technology at numerous conferences and universities in the U.S. and across the world.
Stafford can be reached at 785-532-6520 or kens@k-state.edu.