James Shroyer
Professor of agronomy
Extension crops specialist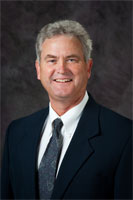 When questions arise regarding the Kansas wheat crop, Jim Shroyer, professor and agronomy specialist at K-State, is the expert often contacted to provide answers.
Shroyer specializes in crop production and physiology, international agriculture, and extension methodology and technology transfer. In his role as an extension crops specialist with K-State Research and Extension, Shroyer participates in crops research, publishes educational materials and makes numerous professional presentations at agricultural conferences. He has been honored by the American Society of Agronomy, the Crop Science Society of America, the National Association of Wheat Growers and Gamma Sigma Delta for his work with agricultural extension.
Along with his professional duties, Shroyer recently released his first children's book, "The Adventures of Holly Holstein: Holly Greets the World." It's the tale of a Holstein calf born during a fierce snowstorm in the hills of eastern Oklahoma. The heifer is befriended by a little girl named Mika. The story was inspired by a real-life event in Shroyer's family.
Shroyer has been at K-State since 1980. He earned his bachelor's in zoology in 1974 from Oklahoma State University, his master's in weed science in 1977, also from Oklahoma State University, and his doctorate in crop production and physiology from Iowa State University in 1980.
Shroyer can be contacted at 785-532-0397 or jshroyer@k-state.edu.