Chwen Sheu
Paul Edgerley chair in business administration
Professor of management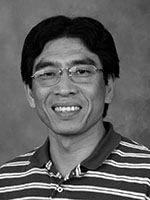 Chwen Sheu is the Paul Edgerley chair in business administration and professor of management.
Sheu is nationally and internationally recognized in the field of operations and supply chain management with a focus on supply chain relationship, outsourcing, manufacturing sustainability and global manufacturing management. His teachings focus on the areas of supply chain management, manufacturing sustainability, continuous improvement, theory of constraints and project management.
The author or co-author of more than 150 refereed journals and proceedings articles, his work has received numerous best paper and research award honors from several academic organizations and professional meetings. These include Boeing, Indiana University Center for International Business Education and Research, Asia Pacific Decision Sciences Institute, Academy of Management and the International Journal of Operations and Production Management.
Sheu also has received several honors in teaching at the national and university levels. He has taught project management, supply chain management and global logistics to various groups of corporate executives in the United States, China and Taiwan. A complete list of his awards and publications can be found at http://chwesheu.com.
Sheu has served as the president of the Global Manufacturing Research Group and is currently the vice president of education for the Council of Supply Chain Management Professionals in Kansas City. He has consulted for more than 40 firms — Boeing, China Mobile, Western Resources, Boehringer Ingelheim, Taipei Computer Association, Motorola, Far Eastern Textile, Kansas Farm Bureau and more — in the areas of supply chain management, continuous improvement and project management.
He joined K-State in 1990. Sheu received his doctorate in operations management from Ohio State University.
Sheu can be contacted at 785-532-4363 or csheu@k-state.edu.
Pronouncer: Chwen rhymes with thwhen, Sheu is shoe.