Eric Shappee
Acting head, department of aviation

Professor and program lead, professional pilot program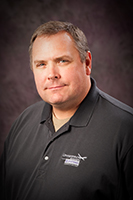 Eric Shappee, professor and program lead of Kansas State University Salina's professional pilot program, joined the K-State faculty in August 2000 and was promoted to full professor in 2012. He was named acting aviation department head in summer 2015.
In November 2001, Shappee was designated a master instructor by the National Association of Flight Instructors, one of the select few to hold the distinction in Kansas and nationwide. Being designated a master instructor is a national accreditation earned through continued education within the aviation field.
Shappee also focuses on aviation safety through his work at the school, in the community and beyond. He is a volunteer with the Civil Air Patrol as the Kansas State Wing safety officer and holds several badges from the Soaring Society of America. Shappee is an aviation safety counselor for the Federal Aviation Administration for the state of Kansas and assists the National Guard's STARBASE program by conducting presentations on aerodynamics.
He is also the sponsor of the Women in Aviation group on campus, safety manager on the Safety Committee for the aviation department, a member of the Multicultural Connection Committee, a member of the Open House Coordinating Committee and regularly conducts progress checks of student pilots.
Shappee received an associate's degree in general studies from Antelope Valley College, Lancaster, California, a bachelor's degree in aeronautical science and a master's degree in aeronautics and safety from Embry-Riddle Aeronautical University, Prescott, Arizona. He began teaching aeronautics and aerospace courses in 1995 at Antelope Valley College.
Shappee is available at 785-826-2630 or wjfpmd@k-state.edu.
Pronouncer: Shappee is Shuh-PAY