Carol Shanklin
Dean of the Graduate School
Professor of hospitality management and dietetics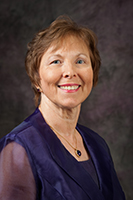 Carol Shanklin, dean of K-State's Graduate School and professor of hospitality management and dietetics, has served the dietetics profession for more than 25 years.
As dean of the Graduate School, Shanklin coordinates all aspects of graduate education at K-State, including recruitment and retention of graduate students, recruitment and professional development activities, promotes graduate and professional education, and coordinates professional development and the Summer Undergraduate Research Program. She represents the Graduate School on numerous university committees and task forces. She also continues to mentor graduate students and supports K-State's Graduate Student Council as co-adviser. She currently serves as chair of the Kansas Graduate Deans Council and the Big 12 Graduate Deans.
Shanklin's research has focused on food safety and biosecurity in food-service operations, the improvement of food service operations in long-term care retirement communities, on alternative approaches to waste management and the minimization of solid waste in food service operations. She is a member of the research team for the Center for Excellence in Food Safety Research in Child Nutrition at K-State, funded by the U.S. Department of Agriculture.
Since joining K-State in 1990, Shanklin has taught master's and doctoral courses in food service and hospitality management and has mentored many graduate students. She was named dean of the Graduate School in January 2009.
Shanklin has served as chair of the Midwest Association of Graduate Deans and as president of the Kansas Dietetic Association and, at the national level, has served the American Dietetic Association as chair of the education committee, chair of the Council on Education, chair of the Commission on Dietetic Registration, chair of the research committee, and has represented Kansas as a member of the association's House of Delegates.
She was named one of eight recipients of the American Dietetic Association's 2001 Medallion national award for her research, leadership, advancement of the profession and commitment to dietetic education. Shanklin was selected for the University of Delaware's Michael D. Olsen Research Award in recognition of her research and mentoring of graduate students in 2004. In January 2009 she received the Founder's Award for her leadership and contributions to the creation of knowledge and development.
Shanklin received her bachelor's degree in home economics education from the University of Tennessee at Martin. She received both her master's degree and doctorate from the University of Tennessee, Knoxville, in home economics and food systems administration.
She can be reached at 785-532-7927 or shanklin@k-state.edu.