Kirk H. Schulz, Ph.D.
The 13th president of Kansas State University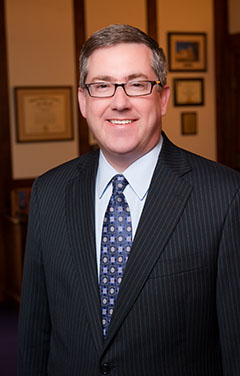 Kirk H. Schulz was selected as the 13th president of Kansas State University in February 2009 by the Kansas Board of Regents.
In his first three years as president he has spearheaded visionary campuswide goal-setting to move K-State forward ? to be recognized as a Top 50 public research university by 2025. At the end of the K-State 2025 planning process the goal is to have a visionary plan that is inclusive of the K-State family, is exciting and innovative, and most importantly, is a plan that has enjoyed campuswide involvement and participation. Learn more.
Other recent highlights include:
Fundraising and Development
This past year, fundraising by the Kansas State University Foundation hit a record $121 million.
Research and Scholarship
Faculty researchers brought in $137.4 million in extramural funding.
Athletics
Athletics completed construction on a new $17 million basketball practice facility and construction began on the new West Stadium Center at Bill Snyder Family Stadium.
Alumni
With more than 40,000 members, K-State continues to be ranked No. 1 in the Big 12 for the 16th consecutive year for percentage of graduates who are members.
Awards

Schulz received the 2012 Chief Executive Leadership Award from the Council for the Advancement and Support of Education.
Government Relations
Worked with the Kansas Delegation, the Office of the Governor, and the Kansas Legislature to secure funding for the construction of the National Bio and Agro-Defense Facility, or NBAF.
Communications and Marketing
Combined web, video, publications, design, news services, photography and marketing into a one-stop shop to provide free services to campus; and launched a new university website.
Student Life
Enrollment set a record in fall 2012 with 24,378 students. Maintained K-State's long-time status as the top choice among Kansas high school graduating seniors for fall 2012.
Schulz also holds the Kansas State University Leadership Professorship and represents the Big 12 Conference on the National Collegiate Athletic Association Division I Board of Directors.
Prior to his appointment as president, Kirk served as vice president for research and economic development at Mississippi State University. He has also served on the faculty at Michigan Technological University and the University of North Dakota.
Schulz is active in several professional societies including the American Institute for Chemical Engineers and the American Society for Engineering Education. In recognition of achievements in the field of Chemical Engineering, he was selected as a fellow in both the American Society of Engineering Education and the American Association for the Advancement of Science.
He is active in the Boy Scouts of America and serves as president of the Coronado Council. Kirk also serves various roles on the boards of Cereal Food Processors, the Greater Manhattan Community Foundation, the Kansas Bioscience Authority, and the Accreditation Board for Engineering and Technology.
He is married to Dr. Noel Nunnally Schulz, who serves as the Paslay Professor of Electrical Engineering at Kansas State University. They have two sons, Timothy, a senior at Mississippi State University and Andrew, a senior at Manhattan High School. Kirk Schulz's parents are Carl and Judy Schulz, Norfolk, Va.
Kirk Schulz can be contacted at 785-532-6221 or kirks@k-state.edu.