David Schmidt
University distinguished professor of computing and information sciences
Lloyd T. Smith creativity chair in engineering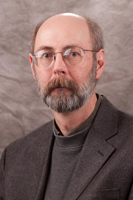 David Schmidt, university distinguished professor of computing and information sciences, holds the Lloyd T. Smith chair in engineering. He is internationally known and respected for his research in programming languages and software engineering.
Schmidt's research centers on programming-language linguistics — applying techniques, like those used by linguists, to understanding existing programming languages, designing more elegant programming languages and proving correctness of programs that are written in programming languages. In a 25-year period, his efforts have resulted in three books and a large number of publications in a variety of top-ranking scholarly journals and conference proceedings.
Since Schmidt's arrival at K-State in 1986, the National Science Foundation has funded his research. His current project is "Abstract semantic processing for script security" The Office of Naval Research, NASA, the Defense Advanced Research Projects Agency and the British Science and Engineering Research Council have also been supporters of his research.
His textbook "Denotational Semantics: A Methodology for Language Development" popularized the denotational semantics technique for programming language definition. The book has been a standard reference since its publication, having been used at many doctoral-granting computing programs in the United States and at more than 300 schools worldwide. In 1995, MIT Press published Schmidt's second textbook, "The Structure of Typed Programming Languages."
Schmidt received the K-State College of Engineering Research Excellence Award in 1997 and the William L. Stamey Excellence in Undergraduate Teaching Award from K-State's College of Arts and Sciences in 1989. He earned the title of university distinguished professor, K-State's highest faculty ranking, in 2003.
A native Kansan, Schmidt completed his bachelor's degree at Fort Hays State University and master's degree at K-State. He performed his doctoral research at Aarhus University, Denmark, completing his doctorate in 1980. Because the Danish university system did not offer doctoral degrees in computing at that time, Schmidt's course and research credits were transferred to K-State, which issued his degree. He spent two years as a postdoctoral fellow at the University of Edinburgh, Scotland.
Schmidt can be reached at 785-532-6350 or das@k-state.edu.