Bonnie Rush
Professor and head, clinical sciences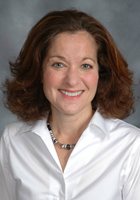 Bonnie Rush's research interests are outcome assessment, didactic teaching and development of clinical training.
Rush, professor and head of the clinical sciences department at Kansas State University, has applied her research of aerosol drug therapy to evaluate systems for pulmonary drug delivery in horses. Rush studies horses with heaves, or recurrent airway obstruction. Rush also has studied pulmonary immunity, developmental immunity and immunostimulant medications for horses.
Rush received the 2002 Pfizer Award for Research Excellence, the 1996 and 2003 Carl J. Norden Distinguished Teaching awards and the 2013 Presidential Award for Outstanding Department Head. She is a member of the Veterinary News Network and the editorial board of Equine Veterinary Education.
Rush received a bachelor's degree in zoology, a Doctor of Veterinary Medicine and a master's degree in veterinary clinical sciences from Ohio State University.
Rush can be reached at 785-532-5700 or brush@k-state.edu.