Bob Rowland
Virologist and professor of diagnostic medicine and pathobiology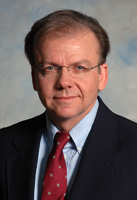 The research interests of Raymond "Bob" Rowland, professor of diagnostic medicine and pathobiology at Kansas State University's College of Veterinary Medicine, center on addressing fundamental problems in infectious disease caused by emerging viruses.
Rowland's current research focus is on molecular mechanisms of disease caused by porcine reproductive and respiratory syndrome virus, or PRRSV, porcine circovirus type 2 or PCV2, and other viruses. His research is supported by funding from the Department of Agriculture, the National Institutes of Health, the Department of Homeland Security, the National Pork Board and various commercial companies.
Rowland is the project director for the Department of Agriculture's multistate Porcine Reproductive and Respiratory Syndrome Coordinated Agricultural Project, a four-year program to effectively coordinate efforts — including research, education and extension — aimed at dealing with the disease.
He also is associate director of the new Department of Homeland Security-supported Center of Excellence on Zoonotic and Emerging Diseases, or CEEZAD, at Kansas State University. In addition, Rowland serves as co-director of the Porcine Reproductive and Respiratory Syndrome Host Genetics Consortium, a multiyear project devoted to understanding the genetics of the interaction between the porcine reproductive and respiratory syndrome virus and its host.
His other research-related activities include serving as executive director of the Porcine Reproductive and Respiratory Syndrome International Symposium and the training of undergraduate and veterinary medicine students in research.
Rowland received his doctorate in microbiology in 1989 from the University of New Mexico School of Medicine in Albuquerque, N.M. He was a postdoctoral fellow from 1989 to 1994 at the University of Minnesota, Minneapolis, and then joined the faculty at South Dakota State University in Brookings, S.D. Rowland, who joined Kansas State University in 2001, received the Pfizer Animal Health Award for Research Excellence in 2007.
Rowland can be reached at 785-532-4631 or browland@k-state.edu.