Dr. James Roush
Roy and Lucille M. Doughman professorship
in small animal surgery
Professor of clinical sciences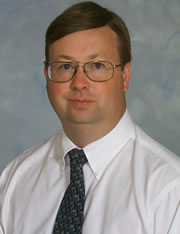 James K. Roush, professor of clinical sciences at Kansas State University, specializes in small animal orthopedic and neurosurgery. His research focus is on the diagnosis and treatment of lameness and osteoarthritis in dogs.
Roush holds the Doughman professorship in small animal surgery. He was a member of the Sigma Xi Science Research Society and Phi Kappa Phi Honor Society at K-State, and was a member of the Phi Zeta and Gamma Sigma Delta honor societies at Purdue University.
During his career, Roush has been awarded nearly $500,000 in grants to perform his research. He has published more than 90 journal articles and book chapters.
Roush received his Doctor of Veterinary Medicine from Purdue University in 1983 and his Master of Veterinary Science from the University of Wisconsin in 1988. He has been a diplomate of the American Veterinary Surgeons since 1990.
Roush can be contacted at 785-532-5690 or roushjk@vet.k-state.edu.