Dorith Rotenberg
Associate professor of plant pathology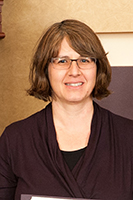 Dorith Rotenberg is an associate professor of plant pathology. Her research focuses on arthropod genomics and the molecular ecology of plant virus-insect vector interactions. She also is leading a project that is sequencing the genetic blueprint of the western flower thrips, a tiny winged pest insect that spreads deadly plant viruses.
Rotenberg, who joined the K-State faculty in 2006, earned her bachelor's in biochemistry, her master's in plant pathology and her doctorate in plant pathology, all from the University of Wisconsin, Madison.
Rotenberg currently advises a doctoral student and a postdoctoral research associate. She also serves as the national education leader for the Thrips Tospovirus Education Network, an education initiative that is part of a $3.75 million research project funded by the U.S. Department of Agriculture's Agriculture and Food Research Initiative that aims to develop and integrate new strategies for controlling thrips-transmitted viruses.
In her role as the national education leader for the project, Rotenberg works to ensure that it incorporates undergraduate students and provides them with research opportunities through educational and mentoring components. She is currently developing a communication network that will connect undergrads involved in the project from across the nation.
Additionally, Rotenberg and her colleagues have established several scholarships for graduate-level students to train and mentor undergraduate students involved in the project. In 2013, she was awarded the University Distinguished Faculty Award for Mentoring Undergraduate Students in Research.
Rotenberg has co-authored many articles published in journals in her field.
She can be contacted at 785-532-1376 or drotenbe@k-state.edu.