Jim Riviere
MacDonald chair of veterinary medicine
Kansas Bioscience eminent scholar
University distinguished professor of anatomy and physiology
Director, Institute of Computational Comparative Medicine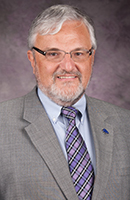 An internationally known expert in pharmacology, Jim Riviere joined Kansas State University in August 2013 as the university's first member of the National Academy of Sciences. He is an elected member of the Institute of Medicine of the National Academies and serves on its Food and Nutrition Board.
At K-State, Riviere is a university distinguished professor, Kansas Bioscience eminent scholar and holds the MacDonald chair of veterinary medicine. He also is director of the university's new Institute of Computational Comparative Medicine.
Riviere came to Kansas State University from North Carolina State University, where he was the Burroughs Wellcome Fund Distinguished Professor of Pharmacology and the director of the Center for Chemical Toxicology Research and Pharmacokinetics. His work looks at risk assessment of chemical mixtures, absorption of drugs and chemicals across skin, and the food safety and pharmacokinetics of tissue residues in food producing animals.
Riviere holds six patents, has authored/edited 11 books and 535 scholarly publications in pharmacokinetics, toxicology and food safety, and received more than $20 million as principal investigator on extramural research grants. He has mentored dozens of award-winning graduate students.
He is a fellow of the Academy of Toxicological Sciences, a member of Phi Beta Kappa, Phi Zeta and Sigma Xi honoraries, and has served on the Science Board of the Food and Drug Administration. He currently is chair of the Institute of Medicine's Committee on Strengthening Core Elements of Regulatory Systems in Developing Countries. Among his honors are the 1991 Ebert Prize from the American Pharmaceutical Association, the Harvey W. Wiley Medal and FDA Commissioner's Special Citation, and the Lifetime Achievement Award from the European Association of Veterinary Pharmacology and Toxicology.
The editor of the Journal of Veterinary Pharmacology and Therapeutics, Riviere is co-founder and co-director of the U.S. Department of Agriculture Food Animal Residue Avoidance Databank — or FARAD — program. His current research interests relate to the development of animal models; applying biomathematics to problems in toxicology, including the risk assessment of chemical mixtures, pharmacokinetics, absorption of drugs and chemicals across skin; and the food safety and pharmacokinetics of tissue residues in food-producing animals. He has served as director of North Carolina State University's graduate program in biomathematics and has been a mentor to dozens of graduate students.
Riviere earned his bachelor's degree in biology summa cum laude and a master's degree in endocrinology with distinction from Boston College, Chestnut Hill, Mass. He earned a Doctor of Veterinary Medicine and a doctorate in pharmacology from Purdue University. He was awarded an honorary Doctor of Science from Purdue in 2007.
Riviere can be contacted at 785-532-3683 or jriviere@k-state.edu.
Pronouncer: Riviere is RIV-EE-EAR