Mary Rezac
Phillips 66 professor of sustainable energy
Professor of chemical engineering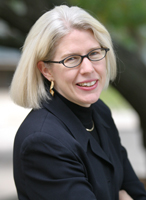 Mary Rezac, Phillips 66 professor of sustainable energy and professor of chemical engineering, joined the faculty at K-State in 2002 as an associate professor in chemical engineering. She previously served as an associate professor in the School of Chemical Engineering at the Georgia Institute of Technology, Atlanta.
Her areas of expertise include sustainable energy and separation processes and their applications to sustainable systems.
Rezac served as head of the department of chemical engineering from 2004-09, and has directed K-State's Center for Sustainable Energy since its inception in 2007.
She earned her bachelor's degree in chemical engineering from K-State in 1987, and completed both a master's and doctorate in that discipline from the University of Texas at Austin in 1992 and 1993, respectively. She has more than 50 publications to her credit and is a joint inventor on two patents.
Rezac has directed research projects funded by the National Science Foundation, U.S. Department of Agriculture, U.S. Department of Energy, American Chemical Society, Environmental Protection Agency and others. During her academic tenure she has guided the research of more than 40 undergraduate and graduate students.
Rezac can be at 785-532-4317 or rezac@k-state.edu.
Pronouncer: Rezac is REE-ZACK.