David E. Procter
Director, Center for Engagement and Community Development
Director, Institute for Civic Discourse and Democracy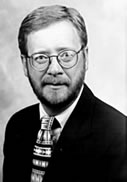 David E. Procter is director of the Center for Engagement and Community Development and the Institute for Civic Discourse and Democracy at Kansas State University.
Since arriving at K-State in 1987, Procter has worked in partnership across the state of Kansas assisting with communication strategies that help preserve and sustain rural communities. He has worked on issues of school consolidation, community strategic planning, heritage museum education, land-use planning, facilitation of community dialogue and strategies for re-populating rural communities.
Procter has authored two books on community building, "Enacting Political Culture" (1991), and "The Rhetoric of Community Building" (2005), and written numerous essays and book chapters on the subject. Before becoming director of the Center for Engagement and Community Development, Procter served as head of the department of speech communication, theatre and dance for 13 years.
Procter has conducted numerous studies on political communication regarding the twisting of the truth in political advertisements, the effects of negative political advertisements on public perception, different campaign styles, how to detect lying and gender differences and similarities in politics.
He received the 1991 William L. Stamey Teaching Award from K-State and a Kansas Center for Rural Initiatives Fellowship to study narrative history in 1992.
Procter earned his bachelor's and master's degrees from K-State and his doctorate from the University of Nebraska-Lincoln in 1989.
Procter can be contacted at 785-532-6868 or dprocter@k-state.edu.