Doug Powell
Professor, diagnostic medicine and pathobiology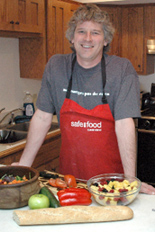 Doug Powell, food scientist and creator of an online repository of food-safety related information, joined K-State as an associate professor in the College of Veterinary Medicine's department of diagnostic medicine and pathobiology in May 2006. He was promoted to full professor in 2011.
Powell is among a collection of individuals who passionately care about reducing the burden of food-borne illness and who seek innovative ways to compel everyone in the farm-to-fork food safety system -- individual producers, retail employees and consumers, among others -- to acknowledge and adopt best practices to reduce the risk of food-borne illness. He also teaches courses in food safety risk analysis, policy, communications and culture.
Under Powell's supervision, researchers and students conduct research, provide commentary, policy evaluation and public information on a range of food-safety issues, such as the safety of fresh fruits and vegetables, restaurant inspection disclosures systems and human behavior. The information is available at online repositories like barfblog.com, a forum for musing about current food safety issues where he has written more than 5,000 entries since 2006. In 2013 it was named one of the Top 30 food safety blogs by Best Public Health Schools.
Powell also conducts research in food-safety risk analysis, especially whether food-safety information is having its intended effect of influencing the practices of consumers and those in the food industry.
He co-authored the 1997 book, "Mad Cows and Mother's Milk: The Perils of Poor Risk Communication," which explores case studies where institutions fail to communicate the scientific basis of high-profile risks in food safety. Among the cases discussed are the 1996 mad cow disease outbreak in Britain and the emergence of E. coli in hamburger in the early 1990s.
He also has published more than 60 peer-reviewed papers and book chapters, and has served on national and international food safety advisory boards.
A native of Brantford, Ontario, Canada, Powell is passionate about food, has five daughters and is an "OK" goaltender in pickup hockey.
He can be reached at dpowell@k-state.edu.