David Poole
Professor of kinesiology and anatomy and physiology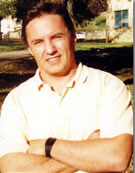 David Poole is acclaimed nationally and internationally for his research that seeks to resolve the basic mechanisms responsible for pathological dysfunction in diseases, such as heart failure and diabetes. He joined the faculty at Kansas State in 1994 as an assistant professor with a joint appointment in the departments of kinesiology and anatomy and physiology. He was promoted to full professor in 2000.
Poole received his undergraduate training in applied physiology at Liverpool Polytechnic in England, where he published his first peer-reviewed research paper at the age of 21. He received his master's degree in 1984 and his doctorate in kinesiology, specializing in physiology, in 1986 from the University of California at Los Angeles.
He also earned the higher Doctor of Science degree from John Moores University, Liverpool, in 2001 in recognition of his contributions to our understanding of oxygen transport and the microcirculation in health and disease. This honor was presented by Cherie Blair, Britain's first lady at the time.
Poole has been a leader in numerous national-level scientific organizations. He was elected president of the American College of Sports Medicine, Central States Region from 2001-2002; has sat on many National Institutes of Health, National Research Council (Canada) and Medical Research Council (United Kingdom) grant review panels; and has judged the Olympic Medal for Science. He has founded one physiology journal and served on the editorial boards of six more. He is currently editor/associate editor for the European Journal of Applied Physiology and the Journal of Applied Physiology.
Poole is a popular keynote speaker at international meetings in North America, Europe and Asia, and has authored or co-authored more than 150 peer-reviewed scientific papers published in high quality journals. These papers have been cited more than 4,500 times to date.
In addition, he has authored or co-authored three books and 60 book chapters. Many of these chapters are in publications that set the standard for physiological knowledge, such as the prestigious "Comprehensive Physiology."
Poole believes that excellence in teaching springs most vibrantly from personal scientific discovery. The success of this philosophy has been recognized by many distinguished teaching and research awards, including K-State's Commerce Bank Award for Excellence in Undergraduate Teaching in 2002, the Merial Award for Excellence in Teaching in Veterinary Medicine in 2006, the Weiderhelm Award from the Microcirculatory Society in 2009 and the Pfizer Award for Research Excellence from the K-State College of Veterinary Medicine in 2010.
Poole has received funding from highly competitive sources such as the National Institutes of Health and American Heart Association in excess of $4.5 million as principal investigator, and more than $10 million as part of a research team. Poole also is responsible for obtaining more than $400,000 to support 38 graduate students and postdoctoral trainees.
Poole can be reached at 785-532-4529 or poole@vet.k-state.edu.