Anne K. Phillips
Associate professor of English
Associate head of department of English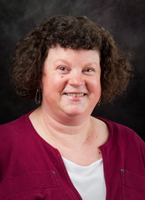 Anne K. Phillips is an associate professor of English and associate head of Kansas State University's English department.
Phillips also has co-edited the Norton Critical Edition of "Little Women" by Louisa May Alcott, and "The Louisa May Alcott Encyclopedia" along with Gregory Eiselein, professor of English at K-State. She and Eiselein are co-editing two volumes for the Salem Press Critical Insights series, one on "Little Women" for 2014 and one on author Alcott for 2015.
As part of the Norton Critical Edition, Phillips provided a list of textual variants and thorough explanatory annotations printed alongside the original "Little Women."
Phillips was awarded a University Small Research Grant in January 2002 to examine the first editions of "Little Women" at the Houghton Library at Harvard University in connection with the development of the Norton Critical Edition.
With Christine Doyle, Phillips co-edited "Children's Literature" Vol. 34, a special issue on Alcott's literature for young readers. One of the essays included in this volume won the Children's Literature Association Award for best article of the year. Phillips served as editorial associate for "Children's Literature" Vol. 20 and co-editor for "Children's Literature" Vol. 21. She also was the co-editor for "The American Nature Writing Newsletter 7.1," a special issue on children's literature and the environment.
Phillips received the College of Arts and Sciences' Commerce Bank Outstanding Undergraduate Teaching Award in 1997 and the Kappa Delta Pi Teacher of the Year Award in 2004. Kappa Delta Pi is the College of Education honor society; its award is given for high professional, intellectual and personal standards and recognizes outstanding contributions to education. Phillips received the Presidential Award for Outstanding Undergraduate Advising in 2010.
Phillips became president of the Children's Literature Association in 2005. She also chaired the Modern Language Association Division of Children's Literature in 1999.
Phillips received her bachelor's degree in English and theater with high distinction in 1984, and her master's in English in 1986, both from the University of Nevada-Reno. She earned her doctorate in English from the University of Connecticut in 1993.
Phillips can be reached at 785-532-2167 or annek@k-state.edu.