Randall K. Phebus
Professor of animal sciences and industry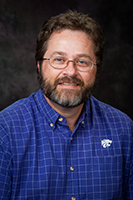 Randall K. Phebus, professor of animal sciences and industry at Kansas State University, is working hard to make food safer for consumers.
Phebus developed a patented process which can be used to develop faster, more reliable meat inspection, and has developed ways to eliminate bacteria -- including steam pasteurization, steam vacuuming, and other methods that can be used in conjunction with steam pasteurization.
He has been at K-State since 1992. He has received the International Association of Milk, Food and Environmental Sanitarians Developing Scientist Award in 1993, and the Early Career Award from Gamma Sigma Delta in 1998. In 2014, he was appointed as a member of the National Advisory Committee on Meat and Poultry Inspection by the secretary of the U.S. Department of Agriculture.
Phebus is a member of Sigma Xi, Phi Kappa Phi, Gamma Sigma Delta, Phi Tau Sigma, Kansas Dairy Technology Society, Institute of Food Technologists, International Association of Milk, Food and Environmental Sanitarians, American Society for Microbiology, the American Association for the Advancement of Science and the Council on Agricultural Sciences and Technology.
Phebus received his bachelor's degree in animal sciences, his master's degree in food technology and science and his doctorate in food science and technology, all from the University of Tennessee.
Phebus can be reached at 785-532-1215, 785-537-0207 or phebus@k-state.edu.