Mark Parillo
Associate professor of history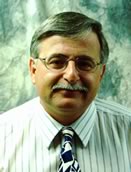 Mark P. Parillo is an associate professor of history and a faculty member of K-State's Institute of Military History and 20th Century Studies. He specializes in military history, particularly the history of warfare in the industrial age.
He is the author of the book, "The Japanese Merchant Marine in World War II." Some of his other publications include "Burma and Southeast Asia, 1941-1945" for "World War II in Asia and the Pacific and the War's Aftermath, with General Themes: A Handbook of Literature and Research"; The Encyclopedia of War and American Society" (3 vols.); and "'We Were the Big One': The World War II Generation in America."

His most recent project, "Statesman and Airpower," is due out from the University Press of Kentucky in 2012.

Parillo has served as chairman and newsletter editor of the World War II Studies Association. He has also been a Presidential Counselor for the National World War II Museum in New Orleans and a member of the Department of the Army Historical Advisory Committee.
Parillo, who joined K-State in 1992, earned a doctorate from Ohio State University.
Parillo can be contacted at 785-532-0374 or parillo@k-state.edu.
See his faculty page here.