Xinming "Simon" Ou
Peggy and Gary Edwards chair in engineering
Associate professor of computing and information sciences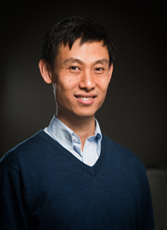 Xinming "Simon" Ou, the Peggy and Gary Edwards chair in engineering and associate professor of computing and information sciences at Kansas State University, primarily researches computer and information security, with a focus on cyberdefense, mobile system security and cyberphysical system security.
Ou is the director of the Center for Information and Systems Assurance at K-State. He also directs research for the Argus Cybersecurity Lab and is a member of the university's Laboratory of Specification, Analysis and Transformation of Software, also known as SAnToS.
Ou received a National Science Foundation CAREER award in 2010, a five-year $430,000 grant. His project seeks to improve cybersecurity by providing automated reasoning that a security analyst can use to reach a conclusion about what security breaches have happened and how they have happened.
His research involves a new computer network defense technique that proactively changes a network's configuration. In 2012, Ou and his K-State colleague, Scott DeLoach, received a five-year $1 million grant from the Air Force Office of Scientific Research to study the effectiveness of this approach, called moving-target defense.
Also in 2012, Ou and colleagues received a $2.37 million grant from the National Science Foundation to help students pursue studies and career paths in cybersecurity and information assurance. Post graduation, student recipients will work with government agencies in cybersecurity-related positions.
In 2013, Ou and Michael Wesch, K-State associate professor of cultural anthropology, received a three-year $700,000 grant from the NSF to apply anthropological research methods in the student of cybersecurity. the project aims at explicating the tacit knowledge embedded in cyersecurity operations and uses it to understand how to improve the process.
Ou joined K-State in 2006 and was promoted to associate professor in 2012. He previously was a postdoctoral research associate at Purdue University's Center for Education and Research in Information Assurance and Security from September 2005 to May 2006, and a research associate at Idaho National Laboratory from May 2006 to August 2006. He received his doctorate from Princeton University in 2005, and earned a bachelor's and a master's in computer science from Tsinghua University in Beijing, China.
Ou can be reached at 785-532-6350 or xou@k-state.edu. More information on Ou and the Argus Lab is available on his home page.
Pronouncer: Ou is Oh.