Richard Ott
Professor of accounting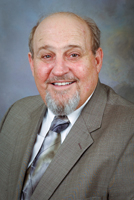 Tax season can cause pains in the neck as well as in the wallet, but Richard Ott, professor of accounting at Kansas State University, has been offering advice for years on how to lessen the stress and pains involved in filing returns.
Ott recommends saving and investing at least a portion of refunds, utilizing direct deposit and filing returns over the Internet to receive refunds faster. He has been an advocate for tax reform.
He served as head of the department of accounting from 2003 to mid-2012, serving as interim head for the 2002-2003 academic year.
Ott's work and advice have earned him recognition in the accounting industry. He was awarded the first PricewaterhouseCoopers faculty fellowship award in July 2000. In 1999 he received the Dean's Choice Award from the College of Business Administration.
Ott earned his doctoral degree in business administration from Texas Tech University in 1986, the same year he came to K-State. He is part of a team that teaches the accounting research course. He conducts research in the areas of taxes, behavioral accounting and accounting education and has been published in several journals.
He also has chaired the College of Business Administration's course and curriculum committee and the assessment committee, which monitors the effectiveness of the college's programs.
Ott can be reached at 785-532-6184 or rlo@k-state.edu.