Jung Oh
Professor of chemistry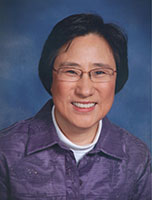 Jung Oh has taught the introductory, general and general organic chemistry courses and the applied research skills and methods course as a faculty member of the department of arts, sciences and business at Kansas State University Salina since 1998.
She earned her bachelor's degree with teaching credentials from Sogang University, Seoul, Korea, and doctoral degree in inorganic and organometallic chemistry from the University of California at Los Angeles. She worked at the Naval Air Warfare Center Weapons Division, China Lake, Calif., as American Society for Engineering Education postdoctoral research fellow.
Oh has received several awards for her teaching, including the Marchbanks Memorial Award for Teaching Excellence, Rex McArthur Family Faculty Fellow Award, Big XII Faculty Fellowship, Peer Review of Teaching Fellow, Wakonse Teaching Fellow and James Coffman Honor Council Award. She received the National Science Foundation-Research Site for Educators on Chemistry visiting faculty fellowship hosted by Wichita State University in summer 2009.
Oh has shared her scholarship endeavors on chemistry education and interdisciplinary teaching and learning projects to international and national audiences, including invited sessions at the American Society for Engineering Education's Global Colloquium on Engineering Education in Turkey in 2007, Brazil in 2006 and Australia in 2005; American Chemical Society national meetings; and at the Biennial Conference on Chemical Education.
She is active in various professional and community organizations, including serving as American Chemical Society Wichita Section chair, Salina Community Women of Achievement Committee co-chair, board of directors of the Central Kansas Council of Girl Scouts and U.S. National Chemistry Olympiad local coordinator. She has opened the K-State Salina Chemistry lab for public outreach activities as a presenter/task force member for the annual Teen Women in Science and Technology, or TWIST, career fair and as a judge/session coordinator for annual regional Science Olympiad.
Oh can be contacted at 785-826-2915 or jroh@k-state.edu.