Noel Schulz
Associate dean for research and graduate programs, College of Engineering
Director, Engineering Experimental Station
Director, Electrical Power Affiliates Program
Paslay professor of electrical and computer engineering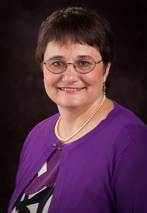 Noel Schulz, Kansas State University's first lady and associate dean for research and graduate programs in the College of Engineering, was inspired by both of her parents to complete an education in engineering. Schulz grew up in Virginia, where her father was a college-level electrical engineering professor and her mother was an elementary school teacher. While attending the Virginia Governor's School for Math and Science the summer before her senior year in high school, she was surrounded by peers who thoroughly enjoyed math and science — just as she did.
Today, Schulz is a nationally recognized expert in power systems engineering who researches the use of computers, including intelligent systems, to solve problems in power system design, operations and controls. Her research interests are in the computer applications in power systems including power system operations, shipboard power systems and intelligent system applications.
Schulz originally chose to study power engineering because she wanted to make a difference by improving existing systems and creating new power system solutions for developing countries. Her research has been funded by a variety of agencies, including the National Science Foundation and the U.S. Departments of Defense, Energy and Homeland Security. She also works with electric utilities and power equipment manufacturers.
Schulz came to Kansas State University in 2009 and became associate dean in 2012. She also is director of the Electrical Power Affiliates Program and the LeRoy C. and Aileen H. Paslay professor of electrical and computer engineering.
Schulz joined Kansas State University from Mississippi State University, where she held an endowed professorship as the Tennessee Valley Authority Professor in power systems engineering. She has more than 20 years of teaching experience at Michigan Technological University, Mississippi State University, University of North Dakota and Virginia Tech.
As an administrator, Schulz has been actively involved in recruiting and retaining women in engineering, faculty development and encouraging international experiences in education. She has initiated faculty networks for women at two universities. She served as director of faculty development and women in engineering at Mississippi State for several years.
As associate dean for research and graduate programs, she has advanced faculty development activities especially for nontenured faculty and is working to advance the graduate student program and environment in the College of Engineering. She also works with distance education and safety activities.
Her teaching interests include power systems, energy conversion, application of computer programs to power engineering, application of intelligent systems to engineering problems, fundamentals of electrical circuits, renewable and distributed generation and smart grid technologies. Some of her recently funded projects include distributed generation protection for shipboard power systems, state estimation with major data losses and distributed simulation.
Schulz has graduated 42 master's and 12 doctoral students; published 160 papers and two book chapters; and brought in more than $10 million in external research funding through individual and collaborative projects, including a National Science Foundation CAREER award. She has received a number of awards and was the 2012-2013 president of the Institute of Electrical and Electronics Engineers, or IEEE, Power and Energy Society, a worldwide, nonprofit association of more than 28,000 individuals engaged in the electric power energy industry. Schulz also served as secretary from 2004-2007, treasurer from 2008-2009 and president-elect from 2010-2011.
For her outstanding contributions in advancing recruitment and retention of women in IEEE and the engineering professions, Schulz was named the 2014 recipient of the IEEE Education Society Hewlett-Packard Harriet B. Rigas Award, and was she was named an IEEE fellow in 2015.
She is a member of Eta Kappa Nu, the electrical engineering honorary society; Tau Beta Pi, the engineering honorary society; the American Society for Engineering Education, serving on the board of directors from 2008-2010; the Society of Women Engineers; and the National Society of Black Engineers.
Schulz has a bachelor's and a master's in electrical engineering, both from Virginia Tech, which she earned in 1988 and 1990, respectively. She earned a doctorate in electrical engineering from the University of Minnesota in 1995.
She is married to Kirk Schulz, Kansas State University president, and they have two sons, Timothy and Andrew. She is the daughter of Charles "Butch" and Joan Nunnally of Blacksburg, Va.
Schulz can be reached at 785-532-5844 or noels@k-state.edu.