Susan Nelson
Clinical associate professor, department of clinical sciences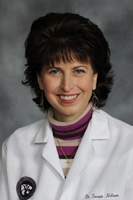 Dog afraid of storms? Does your cat need a heartworm preventive? What's the best way to help your pet shed some pounds?
Veterinarian Susan Nelson of Kansas State University can help.
Nelson's interests are in primary care of cats and dogs, including preventive and wellness programs, public education, clinical communications and emergency preparedness.
She earned a bachelor's degree in biology in 1985 from Hastings College, Hastings, Nebraska. Prior to that, she attended the University of Nebraska, Lincoln for two years. Nelson obtained her doctor of veterinary medicine in 1989 from K-State and worked as an associate veterinarian in private small animal practice in Manhattan for 14 years before joining the clinical faculty in 2003.
She can be reached at 785-532-5690 or snelson@vet.k-state.edu.