T.G. Nagaraja
University distinguished professor of diagnostic medicine
and pathobiology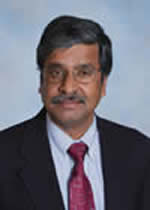 T.G. Nagaraja joined Kansas State University's animal sciences faculty in 1980 and transferred to the College of Veterinary Medicine in 1998. His research has focused on microorganisms in the gastrointestinal tract, particularly of the rumen of cattle in relation to health and disease.
Nagaraja has performed extensive research on feed additives and on ruminal digestive diseases of beef cattle, such as acidosis, bloat and liver abscesses. In the past 10 years, his research has focused on the ecology of Shiga toxin-producing E. coli in cattle, particularly E. coli O157:H7, which are major human foodborne pathogens. He is part of the preharvest food safety team involved in studies on foodborne pathogens with the intent to develop and test intervention strategies to reduce food-borne pathogens in cattle.
Nagaraja received the 2001 Pfizer Animal Health Award for Research Excellence from the College of Veterinary Medicine and the 2010 Irvin Youngberg Award for Applied Sciences, one of the Higuchi-KU Endowment Research Achievement awards. He earned the title of university distinguished professor in 2008. In 2011, the Ad Astra Kansas initiative called "Science in Kansas: 150 Years and Counting" named Nagaraja as one of the state's top 150 scientists — past and present — as part of the yearlong celebration of the Kansas sesquicentennial.
Nagaraja is a member of the American Society for Microbiology, Anaerobe Society of the Americas, American Society of Animal Science, American Dairy Science Association, Sigma Xi, Gamma Sigma Delta, Phi Zeta and an honorary diplomat of the American College of Veterinary Microbiology.
A veterinarian from India, Nagaraja received his bachelor's degree in veterinary science in 1970 and his master's degree in veterinary microbiology in 1975, both from the University of Agricultural Sciences, Bangalore, India. He earned a doctorate in microbiology from Kansas State University in 1979.
Nagaraja can be contacted at 785-532-1214 or tnagaraj@k-state.edu.
Pronouncer: Nagaraja is Nah-guh-rah-juh