E. Wayne Nafziger
University distinguished professor of economics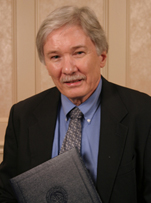 A noted expert in international economics and developing economies, E. Wayne Nafziger, university distinguished professor of economics at Kansas State University, has presented lectures worldwide. He has written more than 16 books, including "Economic Development " (4th edition, Cambridge University Press); "Economic Development, Inequality, and War" (with Juha Auvinen); "War, Hunger, and Displacement: The Origins of Humanitarian Emergencies" (Oxford University Press, two vols., with Frances Stewart and Raimo Vayrynen); "The Debt Crisis in Africa"(Johns Hopkins University Press), which was nominated for the Political Economy Best Book Award by the American Political Science Association; "Inequality in Africa: Political Elites, Proletariat, Peasants and the Poor" (Cambridge University Press), which was named the Choice Outstanding Academic Book for 1990.
Nafziger has published scholarly articles in numerous journals, including the American Economic Review and journals on Africa and developing economies. He is editor of the Journal of African Development, which is the journal of the African Finance and Economics Association.
In 1996-98, he was resident director of the United Nations University/World Institute for Development Economics Research's project in Helsinki, Finland, on the causes and prevention of humanitarian emergencies. The project, with 45 scholars from all over the world contributing, was in cooperation with Queen Elizabeth House, Oxford University.
He has been a visiting professor at the International University of Japan; Hewlett Fellow at the Carter Center, Atlanta; a visiting scholar at the University of Cambridge; Fulbright professor at Andhra University, India; research Fellow at the University of Nigeria; Fellow of the East-West Center, Honolulu; and consultant for the International Peace Academy, the United Nations, and U.S. Agency for International Development, and U.S. Department of State.
Nafziger has been at K-State since 1966, receiving the Edgar S. Bagley Research Award, the Institute for Social and Behavioral Research Senior Faculty Award for research excellence, and the Commerce Bank Distinguished Graduate Faculty Member award. He was named a university distinguished professor, K-State's highest academic ranking, in 1999.
Nafziger is a member of many professional organizations, including the American Economic Association, the Development Studies Association, the Association of Indian Economic Studies, the African Studies Association, and Omicron Delta Epsilon and Phi Kappa Phi honoraries.
He received his bachelor's degree from Goshen College, his master's from the University of Michigan, and his doctorate in economics from the University of Illinois.
Nafziger can be contacted at 785-532-4579 or nafwayne@k-state.edu.