Nancy Muturi
Associate professor
Associate director for graduate studies
A.Q. Miller School of Journalism and Mass Communications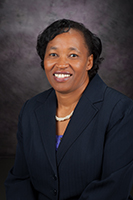 Nancy Muturi is an associate professor and associate director for graduate studies and research in the A.Q. Miller School of Journalism and Mass Communications. She teaches undergraduate and graduate-level courses in public relations, health communication, gender and diversity issues in the media and communication for social change.
Muturi's research focuses on health communication, with an emphasis on HIV/AIDS in Africa and the Caribbean, as well as health disparities in the United States. Her work has been published in some of the top journals in her field, and she has written chapters in several health communication books published in the U.S. and the Caribbean.
Before joining K-State in 2005, Muturi gained several years of international professional experience, mostly with nonprofit and governmental organizations. She has worked as a health communication specialist for the University of the West Indies' HIV/AIDS response program in the Caribbean, and has also served as a graduate studies director for the Caribbean Institute of Media and Communication. In that capacity, she developed an internationally recognized graduate program in communication for social and behavior change with a focus on health, development communication and disaster preparedness.
Prior to her work in the Caribbean, Muturi worked with the U.S. Centers for Disease Control and Prevention. She has also done work with various governmental, nonprofit and community-based agencies in her native Kenya, as well as consulted with several international development organizations, including CIDA, or the Canadian International Development Agency; UNICEF; and UNESCO in Africa and the Caribbean.
Muturi's professional interests have been on reproductive health, HIV/AIDS and, more recently, nutrition-related issues among children. Muturi is the co-principal investigator of a $2.5 million research grant awarded in 2012 by the U.S. Department of Agriculture's Agriculture and Food Research Initiative, which allows K-State to undertake a five-year study that aims to improve children's eating habits.
Since coming to K-State, Muturi has also been affiliated with the public health, women's studies and African studies programs. She has led trips to Africa so that students can learn about issues in the region. Her service-learning teaching approach has also enabled students to be involved in projects in local communities, including designing HIV/AIDS prevention and watershed conservation campaigns.
Muturi can be contacted at 785-532-3890 or nmuturi@k-state.edu.