Subaratnam Muthukrishnan
University distinguished professor of biochemistry and molecular biophysics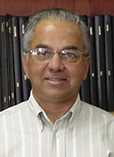 Subaratnam Muthukrishnan, a university distinguished professor of biochemistry and molecular biophysics at Kansas State University, is known internationally for his contributions to insect and plant molecular sciences. Muthukrishnan and his associates have cloned several genes involved in plant defenses against fungal pathogens and insect pests, scoring several firsts in plant and insect gene cloning.
Muthukrishnan holds a patent on the use of a chitinase-based biopesticide, and he and his collaborators have developed varieties of crop plants and other plants more resistant to pests and disease. His laboratories examine the organization and functions of genes involved in the synthesis and turnover of the chitin in the exoskeleton of the red flour beetle. His research has been supported by more than $5 million in extramural funding.
In 2005 Muthukrishnan was part of a K-State research team that identified several enzymes involved in the synthesis, turnover and hardening of a beetle's exoskeleton or cuticle. The discovery could not only lead to better pest control, but also help create similar strong, lightweight materials for use in aircraft and armor.
Muthukrishnan and his wife, Asha, were named to the Manhattan Mercury's "Most Admired" list in 1998.
Muthukrishnan is a recipient of the 2006 Commerce Bank Distinguished Graduate Faculty Award. He also has received the William L. Stamey Award for Excellence in Teaching from K-State's College of Arts and Sciences. He has trained 10 doctoral students and 18 master's degree students at K-State.
He earned his doctorate in his native India from the Indian Institute of Science in Bangalore. He did his postdoctoral work at several institutions in the United States before coming to K-State in 1980. He earned K-State's highest academic ranking of university distinguished professor in 2007.
Muthukrishnan has been named a Fellow of the American Association for the Advancement of Science. He has more than 175 refereed publications, is editor of the book, "Plant PR-Proteins," has served on various review panels for the National Science Foundation and has organized conference workshops. He also serves on the editorial board of the journal Insect Biochemistry and Molecular Biology, serving as a guest editor for a special issue on insect cuticle published in 2010.
Muthukrishnan can be reached at 785-532-6939 or smk@k-state.edu.