Virginia Moxley
Dean of the College of Human Ecology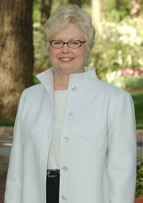 Virginia Moxley is dean of Kansas State University's College of Human Ecology, a position she has held since 2006. The college, which is home to 2,500 students, consists of three departments and one school, nine centers and institutes, two clinics and a museum. In addition to its undergraduate and graduate academic programs and research and extension programs, the college is known for its Sensory Analysis Center, for the National Center for Food Safety Research in Child Nutrition Programs, the Institute for the Health and Security of Military Families, the Institute for Personal Finance, the Institute for Academic Alliances and the Historic Costume and Textile Museum.
Prior to becoming dean, Moxley served as associate dean of the college for two decades. She came to K-State from Emporia State University where she was chair of the department of home economics from 1973 to 1983 and chair of the Division of Sociology, Family Sciences and Anthropology from 1983-1985.
Moxley is a founder of the Great Plains Interactive Distance Education Alliance, or Great Plains IDEA, which has grown into a nationwide alliance sponsoring multi-institutional online academic programs. She has served on the Great Plains IDEA Board since its inception and was the first chair of the board. When the scope of the alliance was expanded to include agriculture programs, Moxley became the first chair of the Great Plains IDEA cabinet. The policies, practices and programs developed by the Great Plains IDEA under her leadership are widely acknowledged in higher education circles as models for good practice for multi-institutional academic partnerships. Moxley co-administers K-State's Institute for Academic Alliances that provides consultation and management support for higher education alliances nationwide
Moxley's national leadership was recognized in 2009 when she was awarded the Association of Public and Land Grant Universities Board on Human Sciences Public Service Award. Accomplishments cited in the award presentation included: co-founder for the National Undergraduate Research Community for the Human Sciences, National President of Kappa Omicron Nu Honor Society, Leadership in Academic Affairs and Federal Relations for the Board on Human Sciences, service on the Food and Agriculture Education Information System advisory board, and her work under a Kellogg Foundation Grant that supported the establishment of a human ecology program at the National University of Asuncion in Paraguay.
Moxley has a bachelor's in textile science, a master's in family counseling, and a doctorate in education, all from Kansas State University.
Moxley can be reached at 785-532-5500 or moxley@k-state.edu.
.