Medhat M. Morcos
Professor of electrical and computer engineering
University distinguished teaching scholar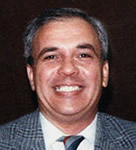 Along with his teaching responsibilities as a professor of electrical and computer engineering, Medhat M. Morcos also is an active researcher in the areas of power electronics, electric power quality, artificial intelligence in power systems, control systems and high-voltage engineering. His research has been supported by the National Science Foundation, U.S. Department of Energy and Kansas Technology Enterprise Corporation. He has published 110 refereed articles and has presented more than 100 papers at national and international conferences.

He is a member of the American Society for Engineering Education and the Electrostatics Society of America. He also is a member of several honoraries, including Eta Kappa Nu, Tau Beta Pi, Sigma Xi, Phi Kappa Phi and Golden Key National Honor Society.

Morcos joined K-State in 1986. He was promoted to associate professor in 1991 and to professor in 1997. He has earned numerous honors for his teaching, including the Presidential Award for Excellence in Undergraduate Teaching; Ron and Rae Iman Outstanding Faculty Award; Robert Snell Distinguished Career Award; Charles H. Scholer Outstanding Faculty Award; Commerce Bank Award for Outstanding Undergraduate Teaching; LeRoy Paslay Award for Excellence in Teaching and Research; Eta Kappa Nu Distinguished Faculty Awards from 1988 to 1992; James Hollis Memorial Award for Excellence in Undergraduate Teaching; and Outstanding Professor of Engineering Award from Mortar Board.
Morcos is a native of Cairo, Egypt. He earned a bachelor's degree from the Military Academy, Egypt; bachelor's and master's degrees in electrical engineering from Cairo University; and a doctorate in electrical engineering from the University of Waterloo, Ontario, Canada. He retired from the Egyptian Air Force as a lieutenant colonel in 1981.

Morcos was selected as the 2001-2002 Coffman Chair for University Distinguished Teaching Scholars and promoted distance learning during his term.

Morcos can be reached at 785-532-4678 or morcos@k-state.edu.