Nancy Monteiro-Riviere
Regents distinguished research scholar,
College of Veterinary Medicine
University distinguished professor of anatomy and physiology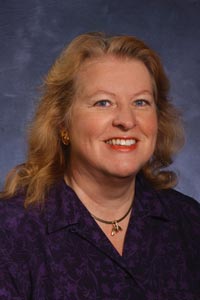 Nancy Monteiro-Riviere is one of the world's leading researchers in absorption of chemicals and nanomaterials through skin.
She is the Regents distinguished research scholar and a university distinguished professor of anatomy and physiology. Monteiro-Riviere also directs the Nanotechnology Innovation Center of Kansas State.
Monteiro-Riviere holds two patents, has authored two books and 268 publications, manuscripts and book chapters in the fields of skin toxicology, nanotechnology and nanomaterials. She has received more than $13 million in extramural research support as principal investigator from various government and private sources. She also is a fellow of the Academy of Toxicological Sciences and was recently elected to the academy's board of directors.
Monteiro-Riviere is a member of Sigma Xi and Phi Zeta honor societies. She received the inaugural Purdue University Distinguished Women Scholars Award in 2011.
She served on the National Institute of Environmental Health Sciences Scientific Advisory Committee on Alternative Toxicological Methods, on the International Council on Nanotechnology, as well as a NATO workshop on nanomaterial risk assessment. She was selected to participate in the National Academy of Sciences Keck Future's Initiative Workshop on Nanoscience and the National Research Council's committee reviewing the federal strategy on environmental health and safety research needs of engineered nanoscale materials. She serves on numerous editorial boards for journals in the fields of toxicology, nanotoxicology, nanomedicine and transdermal drug delivery.
Monteiro-Riviere is frequently invited as the leading speaker at professional meetings and has presented 127 keynote speeches to colleagues around the world on nanotoxicology, transdermal drug delivery and related topics. She has offered several national and international workshops and continuing education courses on nanotoxicology.
She earned her bachelor's degree in biology cum laude from Stonehill College, North Easton, Mass., and her master's and doctorate in anatomy and cell biology from Purdue University, West Lafayette, Ind. She completed two years of postdoctoral work at the Chemical Industry Institute of Toxicology Centers for Health Research (now Hamner Institutes for Health Sciences) in Research Triangle Park, N.C.
Monteiro-Riviere can be contacted at 785-532-4367 or nmonteiro@k-state.edu.
Pronouncer: Monteiro-Riviere is MAWN-TEAR-O-RIV-EE-EAR