Kristin Michel
Associate professor of biology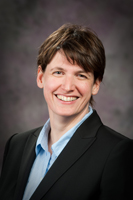 Research by K-State's Kristin Michel may one day limit a mosquito's ability to spread malaria in humans, one of the world's most deadly diseases, particularly in developing countries.
Michel, an associate professor of biology, studies the innate immune system of mosquitoes and how it relates to the pathogens they transmit. She specifically works with Anopheles gambiae s.s. mosquitoes, the species most responsible for malaria transmission in Africa.
Her lab has identified a variety of immune factors that either positively or negatively affect the survival of the malaria parasite in its mosquito vector. She and her research team are focusing on a group of serine protease inhibitors called serpins. These proteins control key innate immune reactions against different stages of the malaria parasite, and could potentially control reactions against other disease agents. Michel's long-term goal is to apply her lab's findings to the design of novel disease control strategies that could interrupt disease transmission within the mosquito vector.
Her work has continuously been supported by grants from the National Institutes of Health, National Center for Research Resources and more. As the author or co-author of numerous peer-reviewed articles, her work has appeared in Science, Proceedings of the National Academy of Sciences, American Journal of Tropical Medicine and Hygiene, EMBO Reports, Journal of Cellular Microbiology, International Journal of Parasitology, Insect Biochemistry and Molecular Biology, Cellular and Molecular Life Sciences, and several others. She also serves as a reviewer for professional journals and scientific publishers. Michel has presented her work at conferences and research seminars across the U.S. and in Europe.
In July 2012, Michel was appointed to the Department of Health and Human Services' Vector Biology Study Section, Center for Scientific Review. Study section members are selected on their demonstrated competence and achievement in their scientific discipline as evidenced by the quality of research accomplishments, publications in scientific journals and other significant activities, achievements and honors. She was promoted to associate professor with tenure in 2013.
She is a member of several professional organizations, including the American Society of Tropical Medicine and Hygiene, German Society of Parasitology, American Association for the Advancement of Science, Entomological Society of America and the German Society of Genetics.
Michel earned a diploma in biology, the equivalent of a master's degree, from Christian-Albrechts-University in Germany, and she earned a doctorate in entomology from the University of California at Riverside. She also served as a postdoctoral researcher in insect immunogenomics at the European Molecular Biology Laboratory in Heidelberg, Germany. She joined K-State in 2007.
Michel can be contacted at 785-532-0161 or kmichel@k-state.edu.
Pronouncer: Kristin is Christine, Michel is Michelle