Kendra McLauchlan
Associate professor of geography
Director, Paleoenvironmental Laboratory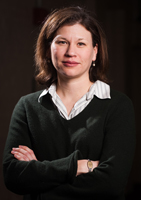 As director of the K-State Paleoenvironmental Laboratory, Kendra McLauchlan, associate professor of geography, leads research that reconstructs the functions and characteristics of ecosystems of the past. The research provides context for modern changes to Earth's environments.
McLauchlan also researches human-environment interactions and physical geography.
In 2010 McLauchlan received a National Science Foundation CAREER Award to examine contrasts in vegetation history in specific areas, with a focus on the impact of nitrogen deposition on global change.
Her research has been published in high-profile journals and has been part of three major National Science Foundation grants at K-State.
She also has received the William L. Stamey Excellence in Teaching Award and a Making a Difference Award. She was also added to the Ad Astra Kansas Initiative's list of the Top 150 Scientists for the organization's project, "Science in Kansas: 150 Years and Counting." She was promoted to associate professor with tenure in 2013.
McLauchlan has a bachelor's degree from Carleton College and a master's and doctorate from the University of Minnesota. She was a postdoctoral fellow at Dartmouth College before joining K-State.
McLauchlan can be reached at 785-532-6155 or mclauch@k-state.edu.