Leland McKinney
Associate professor of grain science and industry
Extension state leader, grain science and industry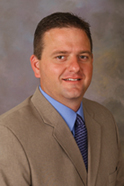 Research by grain and feed scientist Leland McKinney, who also serves as Extension state leader in grain science and industry, is aimed at improving grain and feed processing and making food and livestock feed safer.
McKinney's research on evaluating grain and feed processing techniques, quantifying interrelationships between feed ingredients, feed manufacturing and animal nutrition, and investigating issues related to food/feed safety and security has been supported by industry, government and private sources, including the U.S. Department of Agriculture and Department of Energy, Kansas Wheat Commission, National Pork Board, and K-State's Targeted Excellence program.
His work has appeared in the Journal of Animal Science, Poultry Science and Journal of Applied Poultry Research. He also has presented his research at more than 30 conferences, workshops, symposiums and other events nationally and internationally.
At K-State, McKinney has helped teach both introductory and graduate-level courses, including Introduction to Grain Science and Industry and Feed Technology.
McKinney earned a bachelor's in feed science and management and a master's in grain science from K-State, and a doctorate in animal nutrition from Oklahoma State University.
He can be contacted at 785-532-4082 or lelandm@k-state.edu.