Roger McHaney
Daniel D. Burke chair for exceptional faculty
University distinguished teaching scholar
Professor of management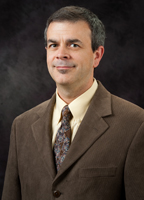 Roger McHaney, university distinguished teaching scholar and professor of management information systems, is an expert on business use of technology and on the ways Web 2.0 and tech-savvy millennials are impacting higher education and learning. He also is developing techniques to improve learning through distance education.

His work has been published in many top business and education journals. He also has written textbooks and developed a variety of instructional material. He has lectured internationally, including in India, New Zealand, China, the United Kingdom, Italy, Greece, Belgium and the Netherlands.

A K-State faculty member since 1995, McHaney teaches courses in management of information systems, information resources management, software development and digital technologies. His areas of research include Web 2.0 in education and business, technologies used by millennials, discrete event simulation, educational simulation systems, computer-mediated communication systems, and organizational computing.

His ongoing research includes studies on how social media is impacting business and education, distance learning techniques, online deception in business, business simulation applications and development of online training simulations.

McHaney was recognized for his excellence in teaching by being named K-State's 2006-2007 Coffman Chair for University Distinguished Teaching Scholars. As Coffman chair, he collected various distance learning techniques being used across campus and compiled an online educational resource that makes the transition to distance learning easier for faculty and staff. He recently authored the book "The New Digital Shoreline: How Web 2.0 and Millennials are Revolutionizing Higher Education."

McHaney holds the Daniel D. Burke chair for exceptional faculty, which has enabled him to develop a textbook on social media use in business that students can obtain at no cost.

He earned bachelor's and master's degrees from Lake Superior State University and a doctorate in computer information system and quantitative analysis from the Sam M. Walton College of Business at the University of Arkansas.

McHaney can be contacted at 785-532-7479 or mchaney@k-state.edu.