Richard H. Mattson
Professor of horticulture
Coordinator of the horticultural therapy program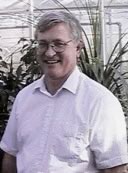 Richard H. Mattson, professor of horticultural therapy, received a bachelor's degree in horticulture from the University of Nebraska in 1964 and his doctorate in floriculture from the University of Minnesota in 1969. Upon arriving at K-State, he worked with the department of horticulture faculty, Karl Menninger, Rhea McCandliss and adjunctive therapy staff at the Menninger Clinic, a national psychiatric hospital, to develop the first horticultural therapy bachelor's degree that was approved in 1971. He completed a horticultural therapy internship at Menningers in 1974.
Mattson has advised more than 300 undergraduate students in horticulture and horticultural therapy. With an 80 percent teaching and 20 percent research appointment, each semester he teaches three or four courses on campus and four courses through distance education. His research has measured human responses to plants in designed and natural environments. Mattson has studied biomedical, social, educationial and behavioral responses of children, youth, adults and elderly people to the healing power of plants and supervised research of 61 master's students and 15 doctoral students.
Mattson has co-authored numerous research papers and two books and is writing a Human Dimensions of Horticulture textbook.
Mattson was recognized as fellow by the American Society for Horticultural Science in 1987 and as teaching fellow by the National Association of Colleges and Teachers of Agriculture in 1989.
He received the Faculty Service Award from the National University Continuing Education Association in 1989, the National Association of Colleges and Teachers of Agriculture's Midwestern Regional Outstanding Teaching Award in 1989, the Gold Medal Award from Garden Clubs of America in 1990, and the Faculty Adviser of the Year Award by K-State's Blue Key Honor Society in 1990.
In addition, Mattson received the Distinguished Faculty Award of Merit from K-State's Chapter of Gamma Sigma Delta in 1993, the Dave Mugler Distinguished Ag Faculty Award by K-State's ag alumni in 2000, and the National Great American Gardeners Award from the American Horticulture Society in 2002.
He can be reached at 785-532-1420 or mattson@k-state.edu.