Richard A. Marston
University distinguished professor of geography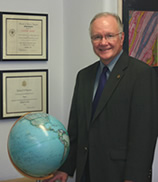 Richard A. Marston joined the K-State faculty in July 2005 as professor and head of the geography department. He was named a university distinguished professor in spring 2006.
He served from 2005-2006 as president of the Association of American Geographers, or AAG, the major professional organization for geographers in the United States. Since 1999 he has been co-editor-in-chief of Geomorphology: An International Journal of Pure and Applied Geomorphology.
A fellow of the American Association for the Advancement of Science and the Geological Society of America, Marston's professional recognitions also include the 2013 AAG Meredith F. Burrill Award for his contributions to public policy, the 2007 Geosciences Distinguished Alumni Award from Oregon State University, the 2007 Distinguished Career Award from the AAG Mountain Geography Specialty Group, 2004 Sterling L. "Bud" Burks Award for Outstanding Environmental Research from the Oklahoma State University Environmental Institute, Oklahoma State's Environmental Institute 2003 Distinguished Faculty Award, 2003 Ronald F. Abler Distinguished Service Honors and appointment to the President's Western Water Policy Review Advisory Commission.
He has numerous journal and book publications. In addition, he has received nearly $2.5 million in grants and contracts for his research, including funding from the National Science Foundation, Environmental Protection Agency, U.S. Geological Survey and others. In 2011 he was named a Jefferson Science Fellow by the National Academies and spent the 2011-12 academic year in Washington, D.C., as a senior analyst with the Department of State, Bureau of Intelligence and Research, Office of the Geographer and Global Issues.
Marston earned a doctorate from Oregon State University in 1980 and taught geography and geomorphology at the University of Texas El Paso, the University of Wyoming and Oklahoma State University prior to joining K-State. He also spent one year at the University of Alaska Southeast, a time during which he was also director of the Foundation for Glacier and Environmental Research. He is a certified professional hydrologist.
Marston can be contacted at 785-532-6727 or rmarston@k-state.edu.