Daniel C. Marcus
University distinguished professor of anatomy and physiology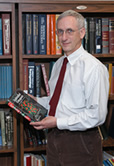 Daniel C. Marcus, a university distinguished professor of anatomy and physiology, has received more than $7 million in research support from the National Institutes of Health and is principal investigator of a $22 million, 10-year grant from the National Institutes of Health's Centers of Biomedical Research Excellence program. The grant created the Center for Epithelial Cell Function at Kansas State University.
Marcus is internationally known for his research on the physiology of inner ear epithelial cells. Functions of these cells are essential for healthy hearing and balance.
In 2003 he was awarded the Pfizer Research Excellence Award from Kansas State University's College of Veterinary Medicine. In 2002 he was awarded honorary membership in Society of Phi Zeta, Sigma Chapter, an organization to recognize and promote scholarship and research pertaining to the welfare and diseases of animals. Marcus also is a reviewer for several professional journals and granting agencies.
Marcus joined the Kansas State University faculty in 1998 as an associate professor in anatomy and physiology. He was promoted to professor in 2000. He was named a university distinguished professor in spring 2006.
Previously he had professional experience at Creighton University, Washington University in St. Louis and Boys Town National Research Hospital. His master's and doctoral degrees are in electrical and biomedical engineering from Washington University in St. Louis. His bachelor's degree in physics is from Antioch College in Ohio.
Marcus can be reached at 785-532-4532 or marcus@k-state.edu.