Ali Malekzadeh
Edgerley family dean of the College of Business Administration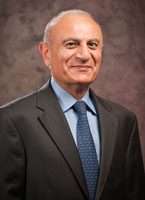 An accomplished administrator who has boosted the reputation and rankings of several business schools, Ali R. Malekzadeh became Kansas State's Edgerley family dean of the College of Business Administration in July 2011. His areas of expertise include strategic management, as well as mergers and acquisitions.
As dean, Malekzadeh leads a college of nearly 2,500 undergraduate students and 150 graduate students. Its faculty include award-winners, top researchers and business owners who are active in trade, research and business organizations. The college is among the 10 percent of the 1,622 business schools and colleges in the U.S. to hold double accreditation in business and accounting from the Association to Advance Collegiate Schools of Business. The college offers undergraduate programs in marketing, accounting, management, management information systems, finance and entrepreneurship, as well as a master's degree in business administration and a master's degree in accountancy.
Since Malekzadeh's arrival at K-State, he has quickly established innovative programs involving broad student and constituent engagement that affirms the college's vision to empower every student. For example, the Kansas State University Business Executive Mentor Program pairs successful business executives with students. This mentorship program allows students to learn from industry leaders and gain the skills they need to enter the business world as true professionals.
During his first year as dean, Malekzadeh worked with a team of undergraduate students, faculty, staff, board members and associate deans to develop the Professional Advancement Program, a structured progression of extracurricular skills and training activities designed to build on each other and allow students to make choices most suitable to their particular career paths.
Prior to joining K-State, Malekzadeh was dean of the Williams College of Business at Xavier University. Among his accomplishments were launching a distinguished speaker series, starting an executive mentor program, creating an entrepreneurship competition and overseeing construction of the college's new $29 million home.
Before joining Xavier, he was dean of the Herberger College of Business at St. Cloud State University in Minnesota, where he also served as the university's interim vice president for academic affairs. Previously, he helped build the new campus of Arizona State University in Phoenix and served as associate vice provost and president of its academic senate.
As a professor, Malekzadeh taught management and has been nominated six times for teaching awards. He has published two books, one on mergers and acquisitions and the other on organizational behavior.
Malekzadeh has a bachelor's degree in management and a Master of Business Administration from the University of Denver. He earned his business administration doctorate from the University of Utah.
Malekzadeh can be contacted at 785-532-7227 or malekzadeh@k-state.edu.
Pronouncer: Malekzadeh is Muh-LEX-ah-day