Ali Malekzadeh
Edgerley family dean of the College of Business Administration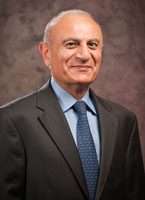 An accomplished administrator who has boosted the reputation and rankings of several business schools, Ali R. Malekzadeh became Kansas State's Edgerley family dean of the College of Business Administration in July 2011. His areas of expertise include strategic management, as well as mergers and acquisitions.
As dean, Malekzadeh leads a college of nearly 2,500 undergraduate students and 150 graduate students. College faculty include award-winning scholars, top researchers and business owners who are active in research and professional business organizations.
Since joining K-State, Malekzadeh has led the college in raising $58 million from private sources and attaining 100 percent of the funding for a new advanced business education building. Construction begins in fall 2014 with completion scheduled for July 2016.
Other accomplishments since his arrival at K-State include:
• Leading the college through a successful Association to Advance Collegiate Schools of Business Maintenance of Accreditation Review in October 2013. The college is among the 5 percent of business schools and colleges in the U.S. to hold double accreditation in business and accounting from the association.
• Helping define a new vision for the College of Business Administration, along the theme of "Every student can succeed."
• Supervised the alignment of the college's strategic plan with the university's Vision 2025.
• Initiating a new online professional MBA program in fall 2013.
• Helping start an executive mentoring program for undergraduate students, with more than 530 students matched with executive mentors as of April 2014.
• Helping start Professional Advantage, a four-year professional development program. More than 5,200 students participated in program events led by 80 companies in 2013.
• Initiating the strategic plans for a $100 million capital campaign.
• Increasing the fundraising for the College of Business Administration from an average of $2 million to more than $40 million in 2014.
• Initiating K-State Launch-A-Business in 2014 for 10 high-potential startup ventures in the Kansas.

• Starting the American Dream Young Alumni Scholarships in January 2014.
• Starting the Young Business Alumni Association, and implementing a community service fundraising annual event.
Prior to joining K-State, Malekzadeh was dean of the Williams College of Business at Xavier University and the Herberger College of Business at St. Cloud State University in Minnesota. Previously, he helped to build the new campus of Arizona State University in Phoenix.
As a professor, Malekzadeh has published two books, one on mergers and acquisitions and the other on organizational behavior. He holds a bachelor's degree in management and a Master of Business Administration from the University of Denver. He earned his business administration doctorate from the University of Utah.
Malekzadeh can be contacted at 785-532-7227 or malekzadeh@k-state.edu.
Pronouncer: Malekzadeh is Muh-LEX-ah-day