Dirk Maier
Professor, grain science and industry
Co-director, Feed the Future Innovation Lab for the Reduction of Post-Harvest Loss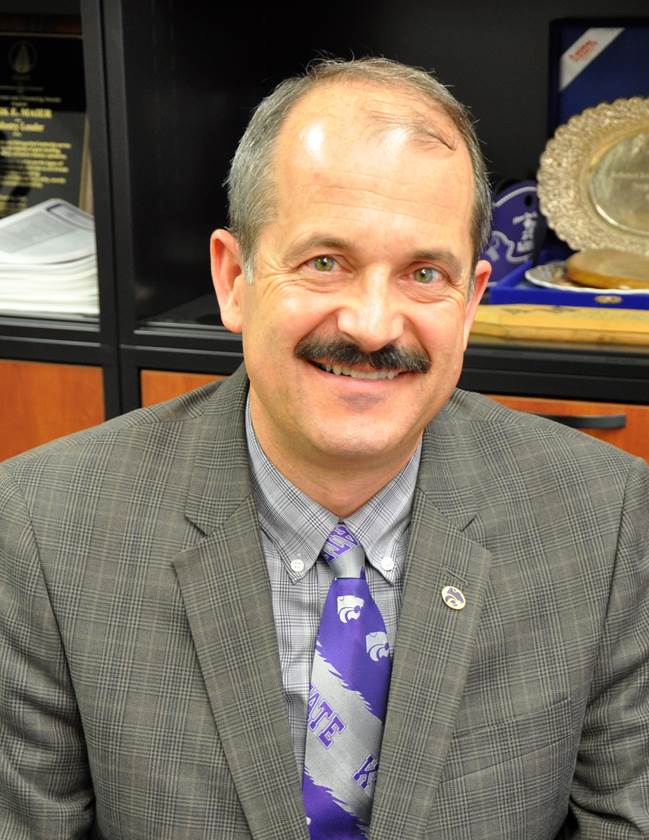 Dirk Maier, an award-winning researcher and educator, has secured more than $20 million in research, technology transfer and extension education grants. His research focus is on engineered technologies for the protection of stored products, assurance of global food security and the delivery of identity-preserved, traceable and biosecure quality grains to the foods, industrial, biofuels and feed processing industries.
As head of K-State's department of grain science and industry from 2008-February 2015, Maier oversaw a department that is known worldwide in the baking, milling, feed production and grain handling industries, and is the only place in the United States that offers bachelor's degrees in bakery, feed and milling science and management, and graduate degrees in grain science. Under Maier's leadership, the department extended its outreach through distance education and offers standalone minors in bakery science, feed science, pet food science and grain operations. As director of the IGP Institute, Maier led the effort to educate international consumers of U.S. cereal products from Kansas and other regions across the nation on their utilization and value. A distance-delivered professional credentialing program, offers credentials in grain operations and grain processing in partnership with the grain, food and feed industry.
Most recently, he led the team that received funding from the United States Agency for International Development, or USAID, to establish the Feed the Future Innovation Lab for the Reduction of Post-Harvest Loss at Kansas State University. He now serves as the lab's co-director.
Maier joined K-State in April 2008 from Purdue University, where he served as professor, associate head and extension engineer in the department of agricultural and biological engineering. While at Purdue, he co-founded the university's Grain Quality Team, was a key initiator of the Purdue Post-Harvest Education and Research Center and served as the founding director of the grain operations distance education program offered through the Grain Elevator and Processing Society, which is now offered in partnership with K-State.
Maier has received numerous awards including the 2011 Grain Industry Leader Award and 2007 The Andersons/NC-213 Cereals and Oilseeds Senior Award of Excellence in Research. He was Purdue University Faculty Scholar and a DAAD guest professor at the University of Hohenheim in Stuttgart-Hohenheim, Germany, in June 2004. He also was a guest professor at Italy's University of Torino in 2003, and a Fulbright Scholar at the Universidad Nacional de Mar del Plata in Balcarce, Argentina, in 2000.
He earned his bachelor's, master's and Ph.D. degrees in agricultural engineering from Michigan State University, and received that department's 2011 Distinguished Alumni Award.
Maier can be reached at 785-532-6161 or dmaier@k-state.edu.